Anders is the Secretary General of the Association of World Reindeer Herders and Executive Director of International Centre for Reindeer Husbandry. He is a Sámi reindeer herder from Troms County, with a Masters degree in business administration. He has worked with indigenous issues, development and innovation on the national and international levels for over 20 years, while still taking part in his family´s reindeer herding. Oskal represents the Association of World Reindeer Herders in the Arctic Council, is an Executive Committee Member of the Arctic Economic Council, and was also a co-author of the 5th report of the UN Climate Panel. Oskal is the project leader for the Arctic Council EALLU project, who´s food book won the main prize of the 23rd International Gourmand Awards in 2018 in competition with 1 372 other books from 116 countries.
Howie is a best-selling author, award-winning journalist and podcast host heard in more than 200 countries. His journalism, on a variety of subjects from demolishing houses in Detroit to finding the best langoustines on earth, has appeared in over 3 dozen publications worldwide, including GQ, Wired and WSJ. The Wall Street Journal Magazine, where he's been contributing editor since 2014. Kahn is the co-author of SNEAKERS, a New York Times Best Seller, author of BECOMING A PRIVATE INVESTIGATOR and co-curator of Phaidon's upcoming SIGNATURE DISHES THAT MATTER. Kahn is the winner of a James Beard award for food feature writing. He is the founder of Free Time Media, whose culture and food podcasts will be debuting soon.

Happy to introduce Ellen Krageberg as our next speaker! Ellen is the president of the Norwegian Rural Women @norgesbygdekvinnelag , an organization of 12,000 members, which has concerned itself with the care of rural women's interests for nearly a century. One of Norwegian Rural Women's largest engagements is to take care of Norwegian food history, especially from women's historic perspective. The organization was in 2018 accredited as an advisor for UNESCO on intangible cultural heritage, with food traditions as their main topic, and includes documentation and practice of the heritage. Ellen has worked to raise awareness for all the knowledgeable women who transfer traditional food practices from one generation to the next, and what we can do to make sure that it continues.
Lahiru "Larry" Jayasekara
Lahiru "Larry" Jayasekara's life began in a humble fishing village on the south coast of Sri Lanka, but ever since moving to the UK and beginning a career in cooking, Larry has been recognised as a gifted chef starting with winning Student of the Year at South Devon College in 2002 & 2003, right up until he was awarded his first Michelin star in 2015. Throughout this time Larry continued to highlight his talents and became widely recognised within the industry. His accolades included Young Chef of the Year 2007, Employee of the Year at Manoir aux Quat' Saisons in 2010, runner up Young Chef Young Waiter 2010, National Chef of the Year runner up 2014 and 2015 and winner in 2016. He was also honoured to be invited to join seventeen international chefs at 2018 'Obsession' at Northcote Manor which raises funds for Hospitality Action; as well as 'Who's Cooking Dinner' at Four Seasons Hotel Park Lane 2018 to raise money to Leukemia. Larry honed his skills learning from some of the best chefs in the world including two years at Petrus under Marcus Wareing, two years at The Waterside under Alain Roux, two years and a half at Micheal Bras in Lyon, three years at Le Manoir aux Quat'Saisons under Gary Jones a further eighteen months with Marcus Wareing at The Berkeley. He also underwent stages with Tom Aikens, Brett Graham, Angela Hartnett and Pierre Koffman. Recognising the importance of developing talent for the future, Larry's philosophy is to support and develop each person to achieve their highest potential. Many of his team have gone on to take up successful positions in the industry including senior roles at 11 Maddison Park, Kitchen Table Bubble Dogs and in 2017 three of his mentees achieved finalist National Chef of the Year, runner up Young Chef of the Year and Craft Guild of Chefs Graduate Award winner with the highest ever score achieved.
Born in South Korea, Anh was raised on his grandmother's traditional North Korea and Japanese cooking. (Grandparents adopted Japanese style cooking during Japan-Korea annexation). At a young age, he moved with his family to California, where his parents owned a Chinese restaurant, which gave him his first experience in a restaurant kitchen. However, it was not until after Anh returned from Iraq after serving in the US Army that he began to pursue a career as a chef.
Anh, opened Mosu in San Francisco in summer of 2015 after building his career at several Michelin starred restaurants; Urasawa, The French Laundry, Benu, and etc. Anh created his own style of cooking at Mosu by harmonizing his multi-cultural experiences. Despite of Michelin star in first year and success in San Francisco, Anh relocated Mosu to Seoul in Summer of 2017 to be closer with his family.
May Rosenthal Sloan is a London-born, Glasgow-based curator and writer. She recently co-curated the exhibition FOOD: Bigger than the Plate at the Victoria & Albert Museum. Prior to that she was a lecturer in Modern American History at the University of Glasgow where she gained her PhD with a study of food and constructions of identity in London and New York since 1945.
Textile-historian, bunad producer and farmer, Jon studied history with a focus in folk fashion and folk costumes from 2005. He then worked for several years at the Institute for bunad and folk-costumes.
In 2008 he started the company "Reinhekla" @reinhekla , from his farm at Fannrem @fannremsgarden .Here he passes on knowledge about traditional and constructed folk costumes, textiles and authentic experiences.From 2013 he started to produce butter and sour-cream, the traditional way. He is a steady supplier to Michelin restaurant Credo and focus is always on the real and honest flavors, made with care and craftsmanship. In 2019 he was nominated for the Embla Food Awards together with Heidi Bjerkan as food communicator of the year.
Pierre Koffmann and Paul Cunningham
We are proud and super-excited to announce that these two living legends, will take charge of one of the dinners during ArktiskMat 2019!
Both Paul and Pierre have been faithful contributors to ArktiskMat for the last years. However, this is the first time that they will be cooking together.
Essex born Paul Cunningham who runs the 2 Michelin-starred Henne&Kirkeby Kro @hennekirkebykro in Denmark, one of most respected restaurants in Europe. Before that, he ran the Michelin restaurant The Paul in Copenhagen. And Pierre Koffmann @pierre.koffmann , the chef who taught Marco Pierre White and Gordon Ramsey. He now runs the restaurant Koffman & Mr. White's @koffmannwhitesbath together with Marco Pierre White in Bath, England. Also worth to mention that Pierre was one of the first chefs in the UK to earn 3 Michelin stars!
Starting as a Chef de Partie in 2015, Maximillian Bogenmann moved on to become Sous Chef, before taking on the position as the first chef de cuisine of Amass in the fall of 2018. He has been working side by side with Head Chef and Owner Matt Orlando, to further refine and develop the style of responsible and dynamic cooking that the restaurant has become known for;continuously finding new ways of utilizing and upcycling by-products and making undervalued ingredients shine in new and delicious ways. Max was born and bred in Los Angeles, with roots in Switzerland andKorea. After majoring in Sociology and Business Economics at the University of California, Irvine, he moved to New York to take up cooking full-time,always keeping an eye on a future move to Europe. The rest is history.

Elise and Marius run the farm-to-table restaurant Til Elise fra Marius in Utskarpen, a part of the Helgeland region in Norway. After working in Oslo for several years, Elise and Marius decided to move back to Elise's birthplace to start their own restaurant. There they work closely with local producers, including Elise's sister who runs the neighbouring farm. They have both been on Norway's national culinary team and previously worked in top restaurants across Norway.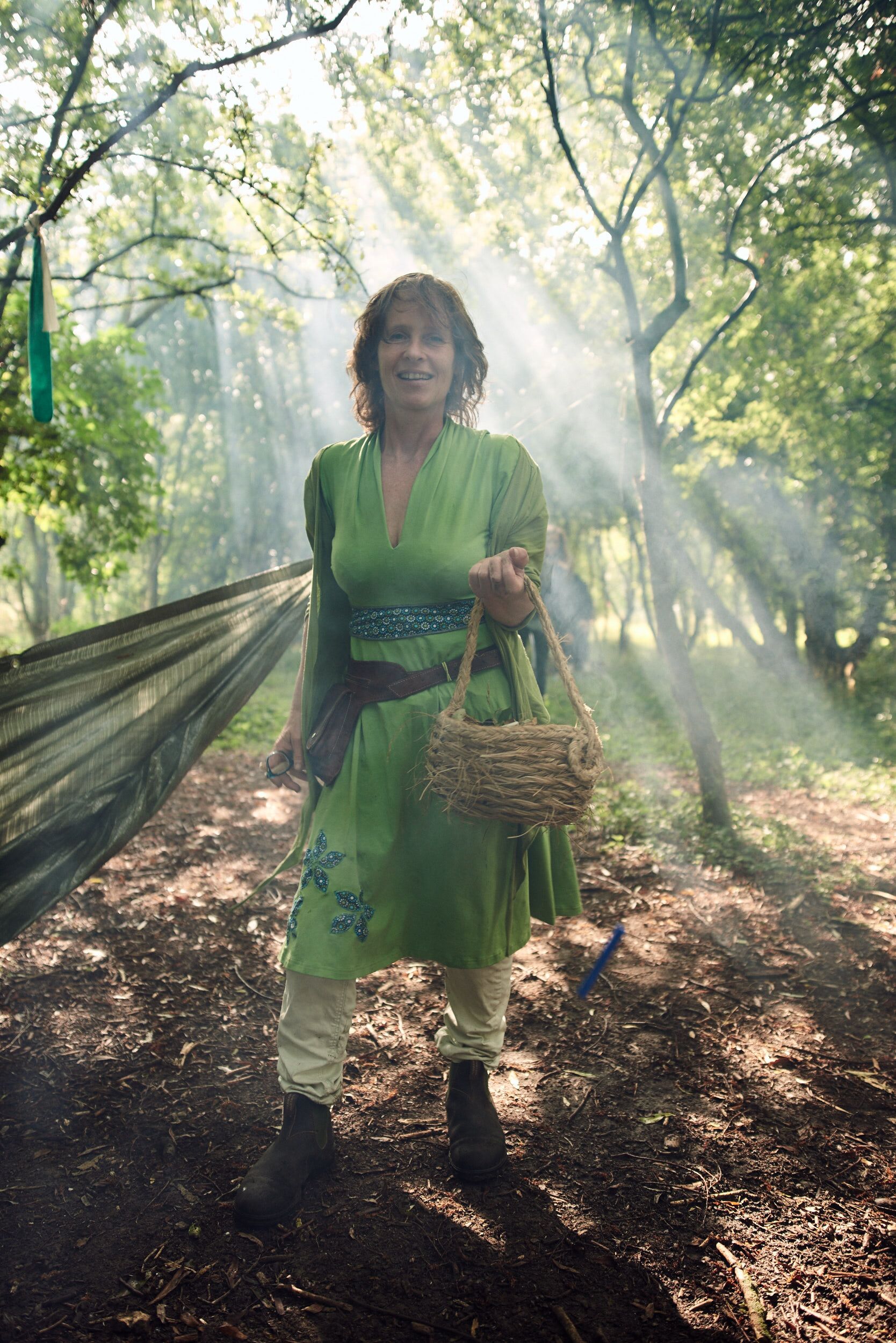 Zenia is a Copenhagen-based forager. She'll bring us stories from the foraging-fields, the normal everyday people she meet out there and the joy she finds in bringing wild produce, to wild chefs, who do wild concoctions with it.
She'll also talk about how all this has evolved over the last few years, from her angle.
Former Noma pastry-chef Malcolm Livingston and his Ghetto Gastro partners are known for collaborations with brands and celebrities—they created the menu for the Black Panther movie premiere, for one—and they've man-aged to embrace high art, street culture and pop thrills all at once. But their dedication to reinvesting in their Bronx community is paramount, partnering with food-justice organizations and neighborhood programs while taking on big-name clients.
What Livingston and his colleagues in Ghetto Gastro are trying to do is present delicious, healthy food with a hypercre-ative global perspective and a deep focus on community and culture.
We are so excited to announce that Berlin based Restaurant Ernst will cook one of the two dinners at ArktiskMat 2019.
In 2017, Canadian chef Dylan Watson-Brawn moved his dining experience from a private apartment setting to a real restaurant
The restaurant is called Ernst, and is one of the most exciting new restaurants in Europe. A counter-dining experience that seats only 12 people every night and serves between 35 and 40 small bites. The restaurant is extremely produce-driven and chef Dylan Watson-Brawn aim to serve only the freshest, most high-quality ingredients that they source from select farmers in the region. The restaurant was awarded its first Michelin-star in 2019.
Kat is a senior editor at Food & Wine, author of Hi, Anxiety: Life With a Bad Case of Nerves, host of Food & Wine's Communal Table podcast, and founder of Chefs With Issues. Previously, she was the senior food & drinks editor at Extra Crispy, editor-in-chief and editor at large at Tasting Table, and the founding editor of CNN Eatocracy. She is a frequent public speaker on the topics of food and mental health.
Niklas Ekstedt is a chef and restaurant owner, from Jârpen in Northern Sweden. He has worked at some of the best kitchens in the world, including Charlie Trotter's and El Bulli.
In 2011 he opened his second restaurant in Stockholm, simply named 'Ekstedt'. Here, the concept is to first and foremost cook all raw ingredients over an open fire.
He is also an author of several books, and renowned in Nordic countries for his long-running Swedish food and travel TV series "Niklas Mat" and more lately the tv-show "Four Hands Menu".
Douglas McMaster is the chef and founder of Silo, the first zero-waste restaurant, based in Brighton. Doug is also the executive Chef of CUB in Hoxton, London. Doug opened Silo in 2014 at the age of 26, creating the worlds first Zero Waste restaurant. The idea is simple; To trade directly with 'where food comes from' avoiding unnecessary packaging and then turning all that is not eaten into compost. This compost then goes back to the farms and closes the loop. Two years after opening, Silo won the prestigious Observer Food Monthly award for 'Britains Most Ethical Restaurant'. In early 2018, Doug gave a TEDTalk titled 'Waste is a failure of the imagination', and June of the same year, Silo won 'Britains most Innovative Restaurant' award at the Craft Guild of Chefs Awards. Most recently Silo and CUB have been included in the World Restaurant awards for innovation and ethical practice.